Show Information
:: Nerdcore Fandom Group Art Show ::
Opening: Friday, January 04, 2013 7pm-11pm
Runs till: Tuesday, February 05, 2013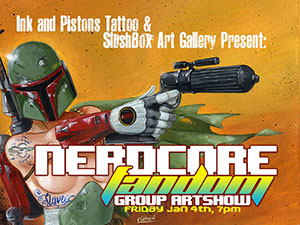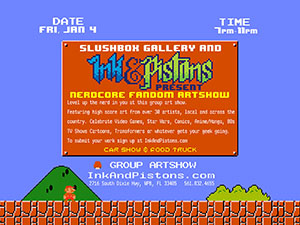 Join the event on Facebook

Level up the nerd in you at this group art show. Featuring high score art from over 30 artists, local and across the country. Celebrate Video Games, Star Wars, Comics, Anime/Manga, 80s TV Shows Cartoons, Transformers or whatever gets your geek going.

Artists Include:
Adolfo Bacigalupo, Brenda Burton, Brigid Howard, Carolina Lebar, Chris Chaney, Dave Berns,JR Linton, John White, Kristin Frenzel, Jenny Lee, Emi Tolibas,Darin Shock, Bobby, Imps and monsters, Hillary White, Monica McGivern, Haylee Herrick, Brad Cain, John Guzman, Chris Calsetta, Blake Wheeler, Cross Stitch Of Whimsy, Brad Cain, Travis Brown, Kirsten Lynn George, Cake Marques, William Butler & Lorna Ruth Galloway funny dog pictures funny pictures jokes

Pics from the opening:




FOLLOW US ON







All shows run for approximately 5-6 weeks. If you are interested in participating in a show. email us at
info@inkandpistons.com
or sign up for the
mailing list
for details and deadlines.
Anatomically Correct::
Opens :
Sat, Oct 18, 2014 7pm-11pm
Anatomically Correct will feature art exploring the fascination of oddities, medical misfits and cre...
More Info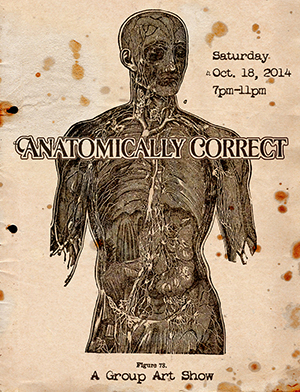 Ink & Pistons Presents: Ink & Pistons::
Opens :
Sat, Dec 6, 2014 7pm-11pm
An art show featuring work done by our very own tattoo artists. Small and large works created just f...
More Info
Fairy Tales and ROBOTS!::
Opens :
Sat, Jan 17, 2015 7pm-11pm
Picture your favorite fairy tales, now add ROBOTS! Marvelous and magical things happen in fairy tale...
More Info