Current Show
:: Fairy Tales and ROBOTS! ::
Opening: Saturday, January 17, 2015 7pm1pm
Runs till: Saturday, February 28, 2015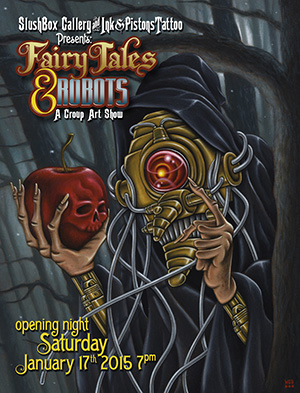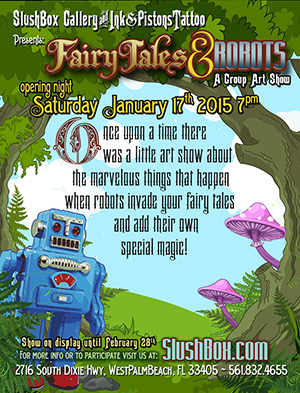 Join the event on Facebook

Picture your favorite fairy tales, now add ROBOTS! Marvelous and magical things happen in fairy tales and robots want to be magical too! Join us and watch their adventure unfold!

Artists Include:
Abigail Marie - Bryan Collins - Brandy Rumuriz - Carlos Fuenmayor - Chris Rude - Christian Bental - Darren F. Gideon - Dave Berns - Erika Taguchi Newton - Jose Arce - JR Linton - Kristin Marie - Matt Vazquez - McGreens - Mike Bell - Mike Slobot - Pam Kwarchak - Rene Cuvos - Scott White - Slotbot - William Butler

Pics from the opening:

Next Show
:: Candy Coated Dreams ::
Opening: Saturday, March 07, 2015 7pm 1pm
Runs till: Saturday, May 02, 2015


A dreamy art show featuring all things sweet, sugary, sparkly, extra fluffy and of course super kawaii!! We have invited our favorite artists from all over Sugarville in hopes that they will paint, knit and hand stitch the most perfectly sweet creations of your dreams! So sweet we hope you will go to bed dreaming of fluffy sugar lumps after viewing this eye candy with us on opening night!





FOLLOW US ON







All shows run for approximately 5-6 weeks. If you are interested in participating in a show. email us at
info@inkandpistons.com
or sign up for the
mailing list
for details and deadlines.