Current Show
:: Candy Coated Dreams ::
Opening: Saturday, March 07, 2015 7pm - 11pm
Runs till: Saturday, May 02, 2015

Join the event on Facebook

A dreamy art show featuring all things sweet, sugary, sparkly, extra fluffy and of course super kawaii!! We have invited our favorite artists from all over Sugarville in hopes that they will paint, knit and hand stitch the most perfectly sweet creations of your dreams! So sweet we hope you will go to bed dreaming of fluffy sugar lumps after viewing this eye candy with us on opening night!

Artists Include:
Sugar Fueled - Spazzy Wonder - Sara Leigh - Polly Peachums - Piktorama - Mary Winkler - Jen D - Brenda Burton - Brandy Rumiez - Amanda Linton - Alisha Koyanis - Maytee Bringas - Mizna Wada Raul Guerra - Dianita - Natasha Wescoat - Sydney Shane - Andrea Cordero - Ms Bitty Knacks - Julie Filipenko - Squidvishuss - Jared Konopitski - JK Mcgreens - Carolina Lebar- Tammy Street ....just to name a FEW!

Pics from the opening:

Next Show
:: The Geek Strikes Back -Nerdcore III ::
Opening: Saturday, May 09, 2015 7pm - 11pm
Runs till: Saturday, June 20, 2015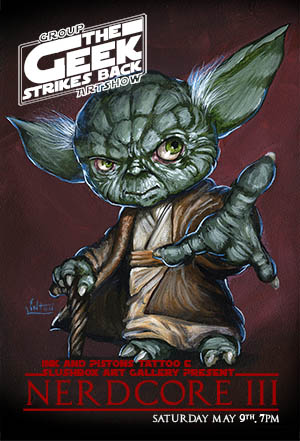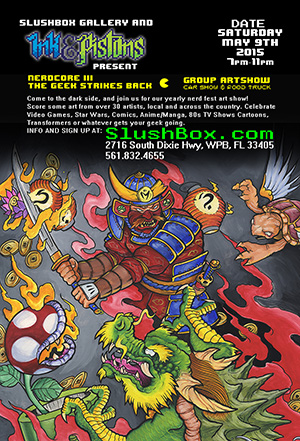 Join the event on Facebook

Its on like Donkey Kong. Our yearly nerd fest art show! Level up the nerd in you at this group art show. Featuring high score art from over 30 artists, local and across the country. Celebrate Video Games, Star Wars, Comics, Anime/Manga, 80s TV Shows Cartoons, Transformers or whatever gets your geek going.

Artists Include:
Jono Doiron - Darren F. Gideon - Robert Page - B U N N E A H - Kristin Marie - Dianita - Jim Garmhausen - David van Alphen - Dave Berns - Matt Duncan - Wizard of Barge - Stephanie Moran - Lawren Alice - Mark Paper Scissors - Kristin Frenzel - Cryssy Cheung - Amy Crabtree - Von Zombo - Chris Chaney - Matt Vazquez - JR Linton - Amanda Linton - Marc Paper Scissors -Sarah Arnold - William Butler ....and more!




FOLLOW US ON







All shows run for approximately 5-6 weeks. If you are interested in participating in a show. email us at
info@inkandpistons.com
or sign up for the
mailing list
for details and deadlines.