Current Show
:: The Sugar High Club ::
Opening: 3/8/2014 7pm-11pm | runs till: 4/19/2014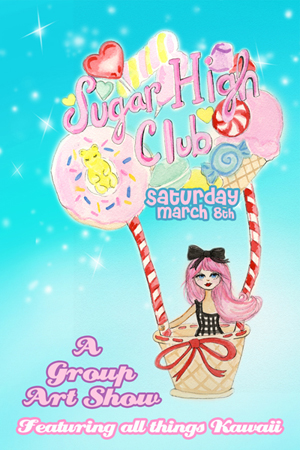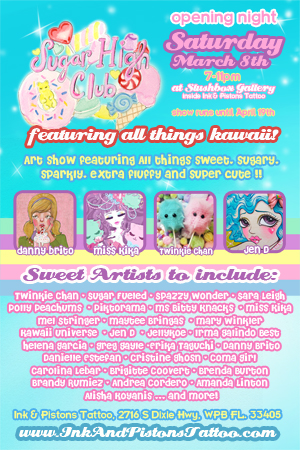 Join the event on Facebook

Art show featuring All things sweet, sugary, sparkly, extra fluffy and of course super Kawaii!! We have invited our favorite artists from all over the in hopes that this will be the most ridiculously cute show in South Florida yet! You can expect to see original paintings, prints, stitched plushies, crocheted pieces, and one of a kind art dolls! So sweet you'll need to brush your teeth twice to avoid a cavity after this show!

Artists:: Invitation only.

Available artwork can be purchase here:: www.Slushbox.com


Artists Include:
Twinkie Chan - Sugar Fueled - Spazzy Wonder - Sara Leigh - Polly Peachums - Piktorama - Ms Bitty Knacks - Miss Kika - Mel Stringer - Maytee Bringas - Mary Winkler - Kawaii Universe - Jen D - Jellykoe - Irma Galindo Best - Helena Garcia - Greg Gayle -Erika Taguchi - Danny Brito - Danielle Estefan - Cristine Ghosn - Coma Girl - Carolina Lebar - Brigitte Coovert - Brenda Burton - Brandy Rumiez - Andrea Cordero - Amanda Linton - Alisha Koyanis ... and more!

Pics from the opening:

Next Show
:: Art of the Rising Sun ::
Opening: 4/26/2014 | runs till: 6/14/2014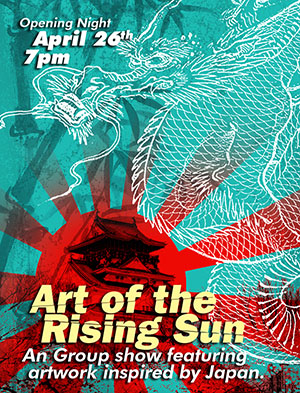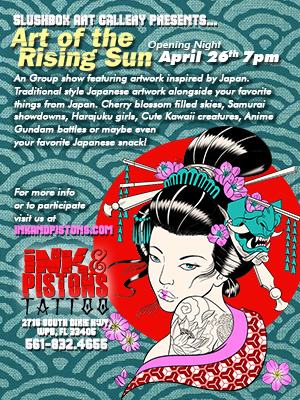 Join the event on Facebook

An Group show featuring artwork inspired by Japan. Traditional style Japanese artwork alongside your favorite things from Japan. Cherry blossom filled skies, Samurai showdowns, Harajuku girls, Cute Kawaii creatures, Gundam Battles or maybe even your favorite Japanese snack!

*ARTISTS!* To be involved click 'PARTICIPATE' above.

Artists Include:
Caron Bowman Cary Polkovitz Melissa Goldman Jennifer Love Gironda 80 Grit Mark Gil Perez Kristin Frenzel Sara Leigh Pooch Jason Bradshaw JR Linton Amanda Linton Sole Del Real Chris Rude Kirsten L. George Jessica Ferreira Dave Berns Jeffrey Schutte Adam Forero Laura Fournier 




FOLLOW US ON







All shows run for approximately 5-6 weeks. If you are interested in participating in a show. email us at
info@inkandpistons.com
or sign up for the
mailing list
for details and deadlines.