Current Show
:: Anatomically Correct ::
Opening: Saturday, October 18, 2014 7pm-11pm
Runs till: Saturday, November 29, 2014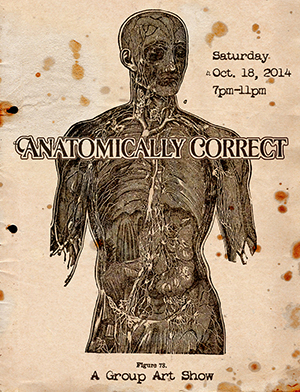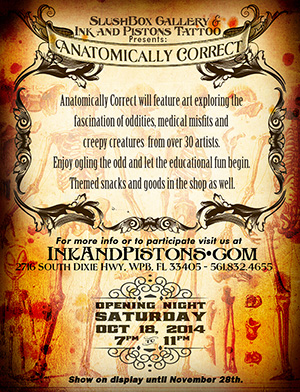 Anatomically Correct will feature art exploring the fascination of oddities, medical misfits and creepy creatures from over 30 artists.

Anatomical normalities or abnormalities. You decide.
Themed snacks and goods in the shop as well.


Artists Include:
- Alisha Koyanis - Bedelgeus -Travis Bedel - Chad Knapik - Chris Rude - Dianita - Heather Rose - Heather Doucette Orlinsky - Joni Berte - JR Linton - Kate Muehlemann Art - Kimberly - Kristen Frenzel - Leah Palmer Preiss - Linda Navamuel 'Nilly Sweetie' - Matt Vazquez - Meagan Segal - Melissa Mc Cabe - Stefanie Merullo - Tammy Street

Pics from the opening:

Next Show
:: Ink & Pistons Presents: Ink & Pistons ::
Opening: Saturday, December 06, 2014 7pm-11pm
Runs till: Saturday, January 10, 2015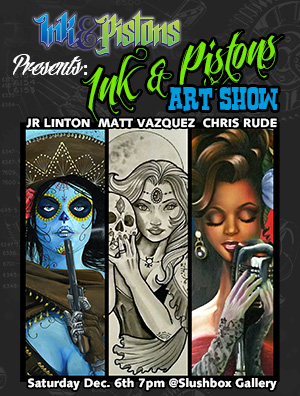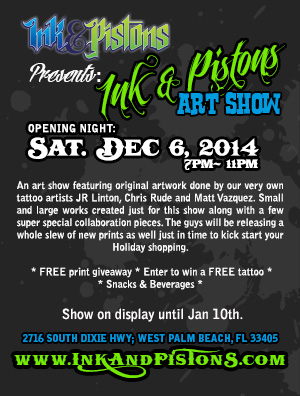 An art show featuring work done by our very own tattoo artists JR Linton, Chris Rude and Matt Vazquez. Small and large works created just for this show along with a few super special collaboration pieces. JR, Chris and Matt will be releasing a whole slew of new prints as well just in time to kick start your Holiday shopping.

ALSO just for this show::
- A commemorative FREE print for all who attend.
- JR Linton canvas prints for sale at a super deep discount $20-$50!
- Purchase an original piece of art and you will be entered into a drawing for a chance to win a $100 tattoo gift certificate or (3) different art prize packs with a piece of original art!






FOLLOW US ON







All shows run for approximately 5-6 weeks. If you are interested in participating in a show. email us at
info@inkandpistons.com
or sign up for the
mailing list
for details and deadlines.