Show Information
:: Blooddrag, Car Show, Tattoo & Art Expo ::
Opening: Saturday, February 09, 2013 9am-5pm
Runs till: Sunday, February 10, 2013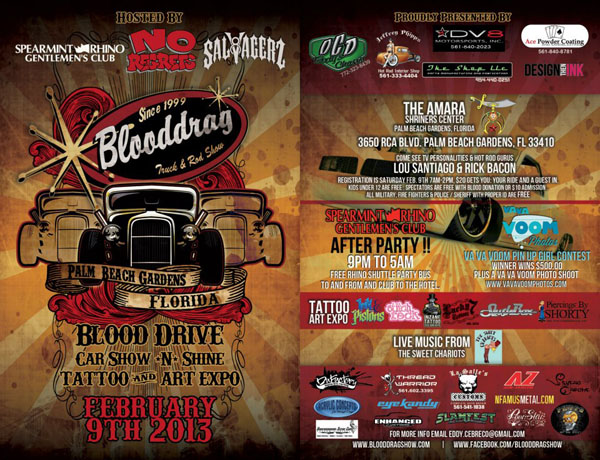 Join the event on Facebook

::Click Here for a Artist & Tattoo Artists Application::

What is Blooddrag? Blooddrag is a "blood drive" car show started in 1999 when the President of a local club was hit by a drunk driver on his motorcycle.

Blooddrag 2013, is happening February 9th 2013 and will be benefiting the Shriners of Palm Beach County and is being held at their beautiful fairgrounds in Palm Beach Gardens. Also this year a Tattoo & Art Expo with over 30 vendors selling art, handmade goods and tattooing on site will be held inside the expo building as well.

The show will be hosted by No Regrets and Florida based hot rod club The Salvagerz. Blooddrag is open to all Hot Rods, Customs, Classics cars, Muscle cars and trucks of all kinds. Drive you car down and register to show!

As always Blooddrag's first rule is, any spectator donates blood will get into the show for FREE. Vehicle registration is $20. Kids under 12 are FREE Spectators are FREE With blood donation or $10 admission. All Military, Fire Fighters & Police / Sheriff with proper ID are FREE.





FOLLOW US ON







All shows run for approximately 5-6 weeks. If you are interested in participating in a show. email us at
info@inkandpistons.com
or sign up for the
mailing list
for details and deadlines.
Candy Coated Dreams::
Opens :
Sat, Mar 7, 2015 7pm - 11pm
A dreamy art show featuring all things sweet, sugary, sparkly, extra fluffy and of course super kawa...
More Info
The Geek Strikes Back -Nerdcore III::
Opens :
Sat, May 9, 2015 7pm - 11pm
Its on like Donkey Kong. Our yearly nerd fest art show! Level up the nerd in you at this group art ...
More Info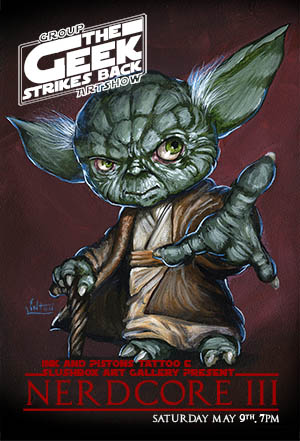 Annual Anniversary Party, Art Show & Hot Rod Roundup!::
Opens :
Sat, Jun 27, 2015 7pm - 11pm
Help us kick off the start of our 4th Year!! Were gonna celebrate with a big ol' Anniversary Party, ...
More Info