Show Information
:: Art of the Living Dead. ::
Opening: Saturday, October 19, 2013 7pm-11pm
Runs till: Tuesday, November 26, 2013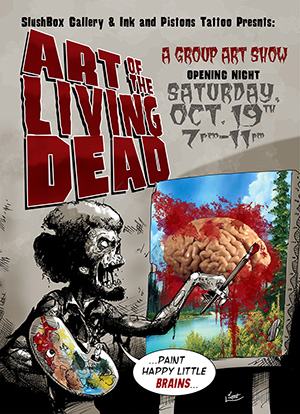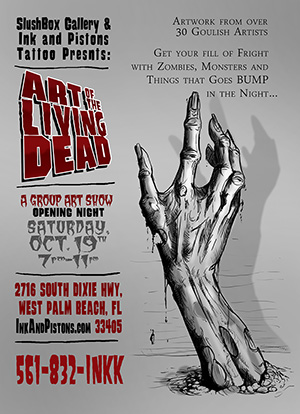 Join the event on Facebook

Get your fill of Fright with Zombies, Monsters and Things that Goes BUMP in the Night.

Artwork from over 30 ghoulish artists.

Creepy drinks and snacks provided.
Costumes optional. Mwaaahaaa! To participate click the " PARTICIPATE IN THIS SHOW" above !


Pics from the opening:

Art for Sale:
Some art below may be available for purchase online in the Event Art section of our gallery Site SlushBox. If there is something you don't see there that you are interested in please email us at info@inkandpistons.com.




FOLLOW US ON







All shows run for approximately 5-6 weeks. If you are interested in participating in a show. email us at
info@inkandpistons.com
or sign up for the
mailing list
for details and deadlines.
Candy Coated Dreams::
Opens :
Sat, Mar 7, 2015 7pm - 11pm
A dreamy art show featuring all things sweet, sugary, sparkly, extra fluffy and of course super kawa...
More Info
The Geek Strikes Back -Nerdcore III::
Opens :
Sat, May 9, 2015 7pm - 11pm
Its on like Donkey Kong. Our yearly nerd fest art show! Level up the nerd in you at this group art ...
More Info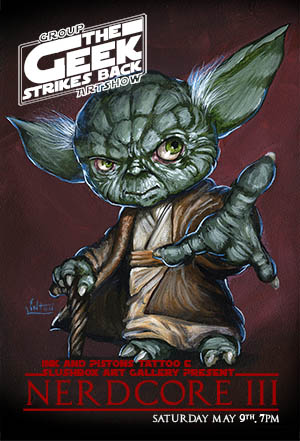 Annual Anniversary Party, Art Show & Hot Rod Roundup!::
Opens :
Sat, Jun 27, 2015 7pm - 11pm
Help us kick off the start of our 4th Year!! Were gonna celebrate with a big ol' Anniversary Party, ...
More Info