Show Information
:: Out To Sea ::
Opening: Saturday, May 18, 2013 7pm-11pm
Runs till: Tuesday, June 25, 2013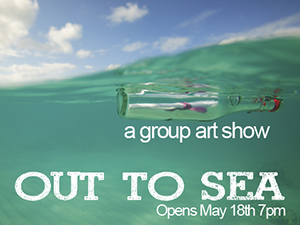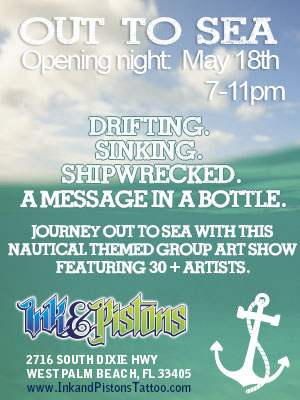 Join the event on Facebook

Drifting. Sinking. Shipwrecked. Message in a bottle. Journey Out to Sea with this nautical themed group art show at Ink & Pistons Tattoo shop & Art Gallery. Over 30+ local artists work will be shown in our 1,000 sq foot dedicated art gallery. Tons if handmade indie goods and art prints for sale in the shop that night as well. Come shop LOCAL or speak to our tattoo artists about your next tattoo! Themed snacks and drinks along with food truck PS561 will be on hand.

Artists Include:
Brenda Burton - Piqué Studios - Mt. Rows - Alisha Koyanis - Undead Ed - kitty Piston -Sara Leigh - JR Linton - Anastasia Chandler - Jessica Anderson - laura fournier - elizabeth Fernandez - Kris Starry - eVol i - Irma Galindo - Jessica Ferreira - Jim Hall Melissa Goldman - Stefanie Merullo - K.L.George - Blake Wheeler - Emi Tolibas -Caron Bowman - Rebecca - Gianna Terminelli - Katrina Cristobal - Krytios Soto - Krissy Yeste Dan Taub - Amanda Valdes - Erika Taguchi-Newton - Kevin Goff - Brad Cain -Kenny Dick

Pics from the opening:




FOLLOW US ON







All shows run for approximately 5-6 weeks. If you are interested in participating in a show. email us at
info@inkandpistons.com
or sign up for the
mailing list
for details and deadlines.
Candy Coated Dreams::
Opens :
Sat, Mar 7, 2015 7pm - 11pm
A dreamy art show featuring all things sweet, sugary, sparkly, extra fluffy and of course super kawa...
More Info
The Geek Strikes Back -Nerdcore III::
Opens :
Sat, May 9, 2015 7pm - 11pm
Its on like Donkey Kong. Our yearly nerd fest art show! Level up the nerd in you at this group art ...
More Info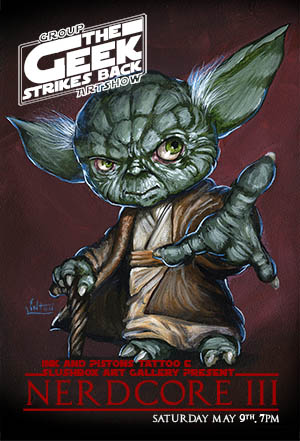 Annual Anniversary Party, Art Show & Hot Rod Roundup!::
Opens :
Sat, Jun 27, 2015 7pm - 11pm
Help us kick off the start of our 4th Year!! Were gonna celebrate with a big ol' Anniversary Party, ...
More Info