Show Information
:: Often Overlooked book signing with Cary Polkovitz ::
Opening: Saturday, April 06, 2013 7pm-11pm
Runs till: Tuesday, April 30, 2013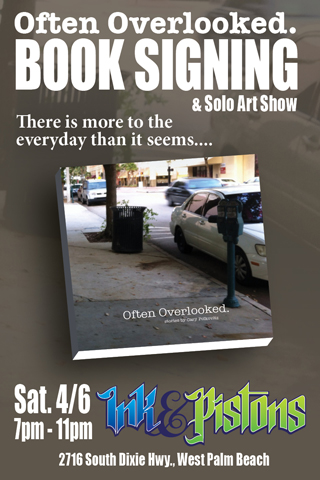 Join the event on Facebook

**ARTWORK & STORIES CURRENTLY ON DISPLAY until April 30th. ** Book for sale as well in the Gallery. Cary Polkovitz's "Often Overlooked" book signing & Solo Art show! Meet the author and celebrate the release of his highly-anticipated new book. A limited number of books will be available for sale the night of. Your Pre-Sale books may be picked up as well. In addition artwork by the author along with a few favorite stories will be on display for your viewing pleasure. Munchies and beverages provided. Food truck PS561 and their Delicious gourmet hot dogs/veggie dogs will be joining the party. https://www.facebook.com/PS561


Pics from the opening:




FOLLOW US ON







All shows run for approximately 5-6 weeks. If you are interested in participating in a show. email us at
info@inkandpistons.com
or sign up for the
mailing list
for details and deadlines.
Candy Coated Dreams::
Opens :
Sat, Mar 7, 2015 7pm - 11pm
A dreamy art show featuring all things sweet, sugary, sparkly, extra fluffy and of course super kawa...
More Info
The Geek Strikes Back -Nerdcore III::
Opens :
Sat, May 9, 2015 7pm - 11pm
Its on like Donkey Kong. Our yearly nerd fest art show! Level up the nerd in you at this group art ...
More Info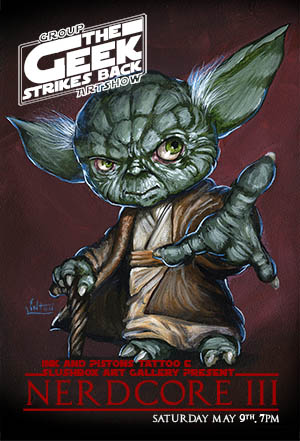 Annual Anniversary Party, Art Show & Hot Rod Roundup!::
Opens :
Sat, Jun 27, 2015 7pm - 11pm
Help us kick off the start of our 4th Year!! Were gonna celebrate with a big ol' Anniversary Party, ...
More Info