Show Information
:: 1 Year Anniversary Party, Art Show & Hot Rod Roundup! ::
Opening: Saturday, June 29, 2013 7pm-11pm
Runs till: Tuesday, July 30, 2013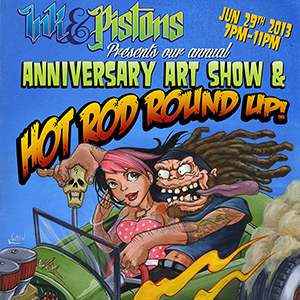 Join the event on Facebook

Man how time flies! Itís been a whirlwind of a 1st year and we canít thank our customers enough for the support! Letís celebrate with a big olí Anniversary Party, Art Show & Car show! Art show featuring work from over 30+ artists who work depicts Hot Rods, Hot Chicks, Pinstripes, Kustom Kulture, Tattoo inspired art, Day of the Dead, Tiki and anything else we find fitting.
Park ní Show your Hot Rod or Traditional Custom.

- FREE commemorative Art Print by JR Linton

- Over $500 in Tattoo and Piercings giveaways

- Food, drinks and CAKE!

- Gourmet Hotdogs truck PS561



Artists Include:
Sonny Deplama - Caron Bowman - ED Dead - Kristin Frenzel - Squindo - Marcia Darbouze- Max Lasure - Melissa Goldman - Kevin Remillard - JME 2 BIT - Jeffrey Dokken - JR Linton - Chris Rude - Lea Vendetta - Carolina Lebar - Jamie Ryscik - Brenda Burton - Adolfo Bacigalupo - Jennifer Love Gironda - Marcia Darbouze - HotRod Jen's - Doctor D -Pinstriping & Originals - Mark Davis Photography - Danny Tito - Buzz - Robert Jimenez - Mike Jacox - Sydney Toolis - Brigid Howard - Sara Leigh -Eduardo

Pics from the opening:




FOLLOW US ON







All shows run for approximately 5-6 weeks. If you are interested in participating in a show. email us at
info@inkandpistons.com
or sign up for the
mailing list
for details and deadlines.